CncNet is a system specially adapted for program transfer between CNC machines and server via the company's existing TCP / IP network. This means that ALL CNC machines, even older machines with only serial port, are integrated into the company's IT system, which results in lower maintenance and service costs.
All NC programs are stored in a central location for secure backup and version control.
Transmission of NC programs
The operator does not need to leave the machine to transfer the desired NC program to or from the machine. Everything is handled via the machine's operator panel.
The absolute biggest advantage is that it is easy to save (re-save) program changes made in the machines. Since CncNet is always ready to receive an NC program, the operator only needs to press the punch function on the control system. This way you always have access to the latest versions of NC programs.
Smartphone / tablet
In CncNet it is also possible to manage the transmission of NC programs between the CNC machines and the network using a smartphone or tablet if these are connected to the local WiFi network.
The smartphone / tablet can also be used to view available NC programs or system status.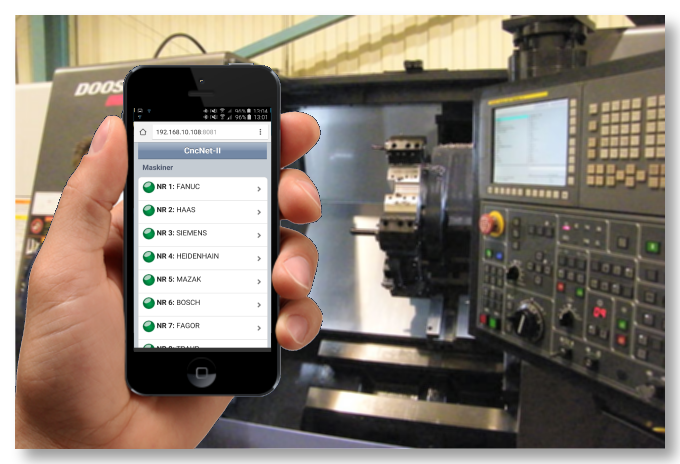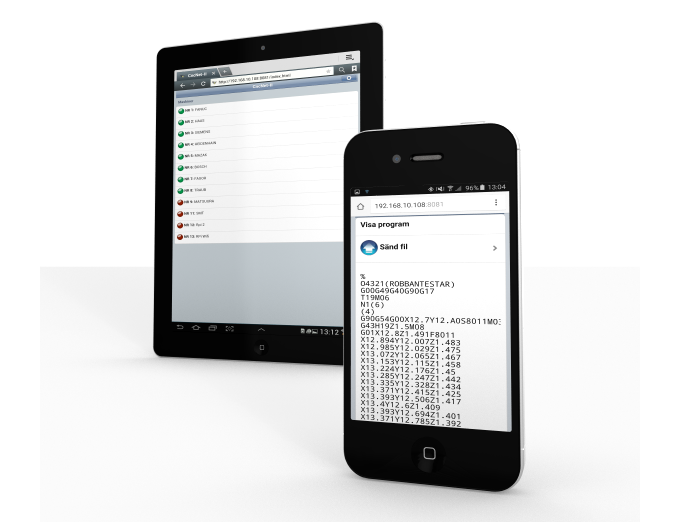 Web interface
A major advantage of the web-based user interface that is integrated into CncNet is that this looks the same regardless of the type of device used. This gives the user a great flexibility for the choice of transmission method. Use your computer's browser, Android or iOS device or the NcEdit software that easily integrates with CncNet.
In the interface there are, for example, sorting features that allow the user to sort NC programs by more criteria, customization of resolution for mobile devices, setting for machine groups of connected machines and simpler and smarter management of folders and subfolders.
The structure of the system
CncNet consists of a manager software as well as a CncPort that is mounted on or in the CNC machine and connected to the company's network. The CncNet Manager software is advantageously installed on the company's server as a service or it can be installed on any computer if a server is missing.
The program works in the background so the computer can be used for other tasks.
The CNC machine's serial RS232C port is connected to the CncPort.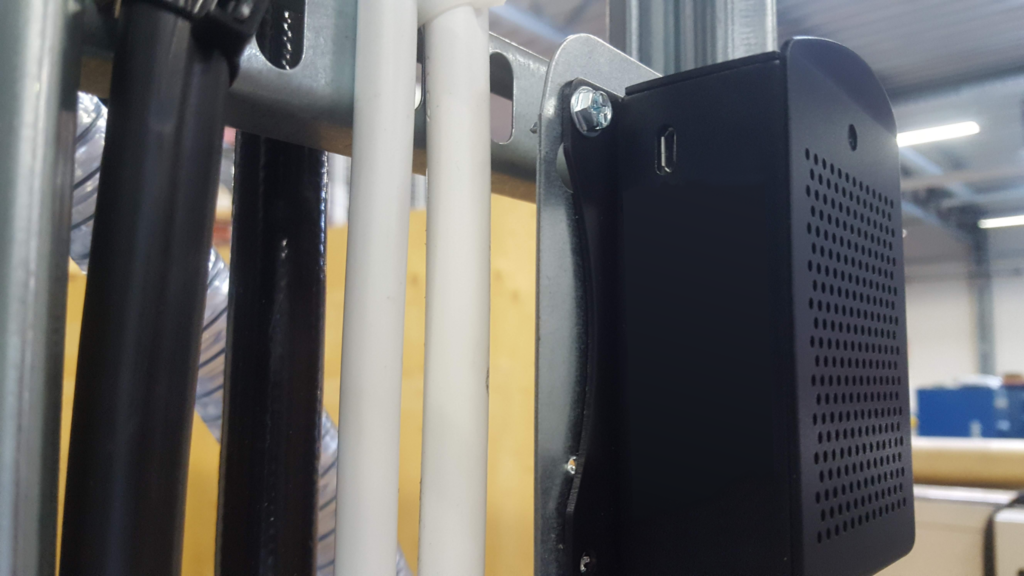 The CncPort
Ersätter långa och många seriella kablar genom att använda det befintliga nätverket.
Löser avståndsproblem mellan CNC-maskiner och datorer.
Monteras enkelt på en DIN-skena inuti maskinen eller skruvas fast på lämplig plats
Matningsspänning kan oftast tas från maskinen (12-48 V AC/DC) i annat fall används en extern spänningsadapter för 100-240V uttag.
Möjlighet att ansluta CNC-maskiner med pc-baserade styrsystem med äldre operativsystem till nätverk (ethernet/ethernet koppling) med bibehållen säkerhet.
Andra typer av seriell till nätverksadaptrar fungerar som en ren virtuell COM-port i datorn. Detta ger oftast en långsam och ganska opålitlig kommunikation till maskinerna.
I CncNet kontrolleras hela kommunikationen i enheten, dvs. programmet "mellanlagras" i enheten och överförs sedan till maskinen (eller datorn).
Anslutning via Rs232 / Ethernet / FTP
Vår CncPort är en nätverksadapter speciellt utvecklad för seriell kommunikation (RS-232C) till CNC-maskiner över ett nätverk (TCP/IP).
Den gör det även möjligt att ansluta CNC-maskiner med PC-baserade styrsystem där operativsystemet (Win 95/98/XP) inte gör det möjligt att ansluta direkt till nätverket p.g.a den säkerhetsnivå som idag krävs för att ansluta till enheter till befintliga nätverk.
CncNet har även en inbyggd FTP-server där man kan använda CncNet direkt istället för att bygga på med ytterligare mjukvara. FTP-servern har även vissa extra funktion som t.ex. revisionshantering och tvingande av lagring av mottagna filer i inställ mapp.
Med hjälp av vår CncPort avskärmas maskinen från nätverket och inga undantag beträffande säkerhet behöver göras för att anslutas till nätverket.
Spårbarhet
För varje maskin skapas en egen mapp på servern med separata hämtnings- / lagringsbibliotek för verifiering av återsända program. Alla överföringar loggas för 100% spårbarhet. NC-programmen blir åtkomliga från valfria datorer i nätverket. Upp till 10 versioner av återsända program lagras.
Inbyggda protokoll
CncPort har bl.a. inbyggt stöd för följande protokoll:
RTS-CTS
XON-XOFF
DC-Koder
Brother
Mazatrol
Heidenhain
M.fl
Ställdatainformation
Tillsammans med vår programvara NcEdit och tillhörande insticksprogram ges användare ytterligare möjligheter till integrering av produktionsinformation som krävs för tillverkning av en detalj.
Med hjälp av vår produkt DbDir som är en form av dokumenthanterare kan företaget koppla olika dokument till NC-programmen. Dokumenten kan t.ex innehålla riggbilder, ställdatainformation, ritningar, verktygslistor mm.
Vid val av önskat NC-program kommer operatören snabbt och enkelt hitta de aktuella dokumenten som tillhör den detalj som ska tillverkas.